"I dedicate this page
to my good friend and writer,
El Sayed Hafez from Egypt."



Author's Art Gallery
Theatre Art Gallery

Current and Past Works

Adult Plays

In order to view these 8 documents as Arabic web pages, I recommend
you go here: El Sayed Hafez in Arabic
Download These Plays in Arabic
(MS Word Docs in Arabic)
1 2 3 4 5 6 7 8
or click on the following graphics to view them in Arabic.

Also, please download the:
Karbala Font
and install it into your Font Folder
(so you can create your own Arabic text documents)




Egypt: a Musical Voyage


In English

Music At Noon
Sinbad Travels the Land
Two Women

Children's Plays


Goha's Children
Safrout in the Forest
The Show Singing Play


Comic Plays

Gulf War (Act 1) (Act 2)
Zobida, King of the Garbage Collectors




Assalaam 'Alaikum Warahmatullahi Wabarakatuhu!!
(Peace Be Unto You)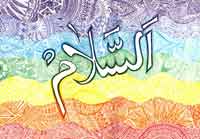 As-salaam : Sources of Peace

Peace is like "being on a beach with sunshine and eating dairy milk white chocolate";
or "seeing white light with eyes closed and listening to the sound of water".
It's about "reading the Ayah and singing the Naats or being all quiet with no wars and
everyone being nice to each other".

Its about having "Barbie dolls instead of military soldiers, Barbie cars instead
of military tanks and, magic wands and roses without thorns instead of guns".
Return to Indigenous Peoples' Literature
Compiled by: Glenn Welker
ghwelker@gmx.com


This site has been accessed 10,000,000 times since February 8, 1996.