"Who Is This Masked Man?"



"Somos Todos Marcos!"
(Zapata Vive en Chiapas!)


(Please sign this petition - Thank you)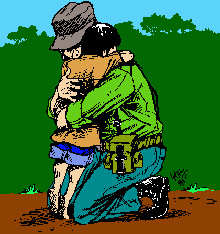 Zapatista's Art Gallery by Latuff

"Patria, mi dulce amada,
tu voz y mi canto
unidos hoy en el exilio
me duelen
como pu"al en al alma."




Acteal: One year later ...

"My sweet beloved homeland,
your voice and my song
joined today in exile
wound me
like a dagger in my soul."
---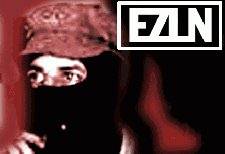 Mex News List Sites
Accion Zapatista (AZ)
Austin Comite
Best Chiapas Photos
Compiled by: Scott Sady
Chiapas95 (Accion Zapatista de Austin)
Comitato Chiapas Torino
Comite de Solidaridad con Mexico en Holanda
Coordinamento Zapatista per l'Italia
C. s. o. a. La Strada
EZLN (Ya Basta!)
FZLN Page (Main Page)
FZLN Page (News Summary)
Gruppo Tatanka
Initiatives Against Neoliberalism Page
Irish Mexico Group

John & Sandra Marsh's Clandestine Home Page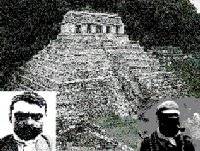 Melbourne Page
Mexican Encuentro Intercontinental
Mexico News Archive
Movimiento Civil Zapatista de Yucatan

National Commission for Democracy in Mexico (NCDM)

NetWarriors in Mexico
Rage Against the Machine
Red de Solidaridad con Mexico (RSM)
San Cristobal - City of Dreams
SIPAZ, International Service for Peace
Softbomb - Zapatista Mail/Web Art

Solidaridad Directa con Chiapas Page

Zapata Page (Yucatan Convention for Democracy & Peace)
Zapatista Net of Autonomy & Liberation (ZapNet)
Zapatista Solidarity Network (NEZSN)
---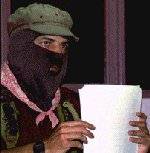 ---
Local Home Pages
Chiapas Quotes/Other Web Pages
Protest Letters
Articles/Books Related to Chiapas

Carlos Fuentes on Chiapas




Carlos Fuentes Interview
Chiapas Is Global
Chiapas Uprising and Human Rights Abuse
Cyberspace and "Ungovernability"
Global Problems and the Culture of Capitalism
Indians and Mestizos in the Americas

Life Among the Maya
---


Rigoberta Mench™ Tum
Quiche Mayan
---

Gaspar Pedro Gonz∑lez
---
Many Faces of Mexico
Mayas
Pueblo y el mal gobierno
Related Stories About M»xico
Respetar cultura de los indigenas
Tehuatzin ti M»xicatl (We Are M»xica)
Victor Montejo
What Price Is Dignity?
Which Flag?
Yo soy indio
Zapatistas in Cyberspace

Zapatista Thunder
---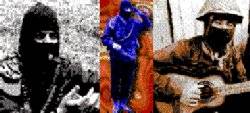 Canto a Comandante Marcos
Emiliano Zapata
Ode to Chiapas
Chiapas, And the Women?
Chiapas-l List Archives
Chiapas-l List (Subscription Info)
Chiapas Media Project
Chiapas Web Links
Human Rights Activism and the Internet
Pastors for Peace
People's Decade of Human Rights Education
Schools for Chiapas
---
Chiapas has seen it's share of the
"GOOD", the "BAD", and the "UGLY":


Bartolomo de las Casas ------ Hernan Cortes---------
---



"Basta de gritar contra el viento.
Toda palabra es ruido si no esta acompanada de accion."

Gloria Anzaldua

Che Guevara
---
"Let me say at the risk of seeming ridiculous
that a true revolutionary is guided by great feelings of love."



---
Return to Indigenous Peoples' Literature
---
Compiled by: Glenn Welker




This site has been accessed 10,000,000 times since February 8, 1996.