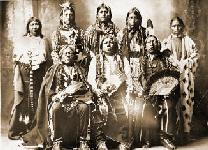 ---
"Tonkawa means, "the people of the Wolf". The Tonkawa claimed they were all descended from a mythical wolf. For this reason the Tonkawa would never kill a wolf." *

The Tonkawa Tribe of Oklahaoma includes within their membership "...the only surviving Karankawas (a coastal tribe from Texas) and a number of people of Lipan ancestry." the Tonkawa are located near the town of the same name in Oklahoma, and hold a powwow each year in June. They have also held educational workshops in Austin, Port Lavaca, and other Texas cities, where the Tonkawa were originally from.
---
*The Tonkawa Indians
by R. E. Moore, www.TexasIndians.com
(Best Site about Tonkawa People, with maps)

Anglo and Native American Confrontations
(Brazoria County Historical Museum - TX)
The Tonkawa Nation
Handbook of Texas Online: Tonkawa Indians
---
Return to Indigenous Peoples' Literature
---
Compiled by: Glenn Welker




This site has been accessed 10,000,000 times since February 8, 1996.