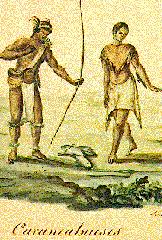 "Carancahueses," Karankawa
Indians of the Gulf Coast.
The Karankawa Indians were a group of Indian Tribes that lived along the Texas Coast. Ironically, by the year 1860, on the eve of the American Civil War, they had been completely exterminated. There are lagoons, or bays, spread out along the Texas Coast where the Karankawa made their camp sites; mainly because the bottoms were mostly smooth and the water was shallow. These waters enabled them to go out into the pools and in the clear, slowly ebbing water taking the fish and oysters they desired.
The first of these Bays is Galveston with its subdivisions, East Bay, Turtle Bay, Trinity Bay, West Bay, Dollar Bay, Clear Bay and Oyster Bay. To the Southwest is Matagorda Bay which has parts known as Oyster Lake, Trespalacios Bay, Carancahua Bay, Kellers Bay, Cox Bay, Chocolate Bay, and Lavaca Bay. Next is Espiritu Santo Bay, with its northern extension, San Antonio Bay. Fourth is Aransas Bay, which has parts know as St. Charles Bay, Copano Bay, Mission Bay and Fuerte Bay. Fifth is Corpus Christi Bay with its extension, Nueces Bay. The Last Bay is Laguna de la Madre.
THE KARANKAWAS inhabited the Gulf coast from Galveston down to Corpus Christi, mainly coastal prairie grassland, cut by streams and occasional forests. Cabeza de Vaca described the Karankawas as tall (6 ft common), well-built, muscular, the men stark naked, with lower lip and nipples pierced, covered in alligator grease (against mosquitos), happy and generous, with amazing physical prowess. "... they go naked in the most burning sun ....- in winter they go out in early dawn to take a bath ... breaking the ice with their body...". With cedar bow and arrow: "... aimed at a bear in the top of a tree ... the arrow went through the body and was propelled 40 to 50 yards beyond ..."; "though impelled nearly 200 yards, the arrows were driven to the feather in the alluvial bank."

From the gulf waters - using dugout canoes - they took oysters, clams, scallops, mollusks, turtles, fish, porpoises, alligators and underwater plants. Deer were hunted, occasional buffalo, bear, peccary, smaller mammals, ducks. Berries, nuts, seeds and other plants were gathered. No foods were continously plentiful, when the harvest was good they gorged at repletion. "unique in their gluttony .... they eat locusts, lice, even human flesh ... raw meat, bear's fat .... passion for spoiled food ...". In spring they might subsist exclusively on oysters, "then for a month they ate blackberries".

Fires for cooking were built in willow pole shelters. Trade with the inland tribes: conch shells in exchange for skins, red ocher, flint, and deer hair (for tassels).
The now-extinct Karankawa Indians played an important role in the early history of Texas. The name Karankawa became the accepted designation for several groups or bands of coastal people who shared a common language and culture. Those bands, identified in early historic times, included the Capoques (Coaques, Cocos), Kohanis, Kopanes (Copanes), and Karankawa proper (Carancaquacas). They inhabited the Gulf Coast of Texas from Galveston Bay southwestward to Corpus Christi Bay. All spoke a little-known language called Karankawa, and only about 100 words of that language have been preserved. The significance of the name Karankawa has not been definitely established, although it is generally believed to mean "dog-lovers" or "dog-raisers." That translation seems plausible, since the Karankawas reportedly kept dogs that were described as a fox-like or coyote-like breed. The Karankawas were poorly equipped, nomadic people who migrated seasonally between the barrier islands and the mainland. Their movements were dictated primarily by the availability of food and secondarily by climate. They obtained food by a combination of hunting, fishing, and gathering. Fish, shellfish, and turtles were staples of the Karankawa diet, but a wide variety of animals and plants contributed to their sustenance.
---
The Karankawa Indians
by R. E. Moore, www.TexasIndians.com

Handbook of Texas Online: Karankawa Indians
The History of San Leon: Karankawa Indians
(Best resources on the Internet)
Karankawa Indian Campsite
The Karankawa Culture and History
---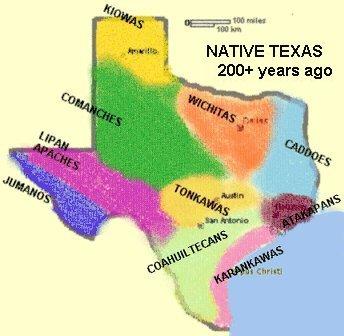 BIBLIOGRAPHY: Martin A. Favata and José B. Fernández, The Account: Núñez Cabeza de Vaca's Relación (Houston: Arte Público Press, 1993). Albert S. Gatschet, The Karankawa Indians, the Coast People of Texas (Cambridge, Massachusetts: Peabody Museum of American Archaeology and Ethnology, 1891). William W. Newcomb, The Indians of Texas (Austin: University of Texas Press, 1961). Richard P. Schaedel, "The Karankawa of the Texas Gulf Coast," Southwestern Journal of Anthropology 5 (1949). Robert S. Weddle et al., eds., La Salle, the Mississippi, and the Gulf: Three Primary Documents (College Station: Texas A&M University Press, 1987).
---
Return to Indigenous Peoples' Literature
Compiled by

Glenn Welker
---
This site has been accessed 10,000,000
times since February 8, 1996.
---