{suh-kwoy'-uh}
---
Sequoyah (ᏍᏏᏉᏯ Ssiquoya, as he signed his name,[2][3] or ᏎᏉᏯ Se-quo-ya, as his name is often spelled today in Cherokee) (c. 1770–1840), named in English George Gist or George Guess, was a Cherokee silversmith. In 1821 he completed his independent creation of a Cherokee syllabary, making reading and writing in Cherokee possible. This was the only time in recorded history that a member of a non-literate people independently created an effective writing system. After seeing its worth, the people of the Cherokee Nation rapidly began to use his syllabary and officially adopted it in 1825. Their literacy rate quickly surpassed that of surrounding European-American settlers.

is credited with the invention of the Cherokee written language, the so-called talking leaves. As a young man he was a fine hunter, warrior, trader, and silver craftsman. An able linguist who learned French, Spanish, and English, he was determined to preserve Cherokee culture and was implacably opposed to American intrusions into his tribal lands. After continued white encroachments, however, Sequoya journeyed westward (1797), although he returned periodically to his homeland.
Recognizing the power of the written word, Sequoya developed a Cherokee syllabary of 86 symbols by adapting letters of the English alphabet to represent sounds in the Cherokee tongue. The generally accepted date for its completion is 1821, although Cherokee tradition dates the syllabary earlier. Although there is some question whether Sequoya was its inventor, he certainly popularized the syllabary, which led to the founding of the Cherokee Phoenix, a Cherokee language newspaper, on Feb. 21, 1828.
Sequoyah's heroic status has led to several competing accounts of his life that are speculative, contradictory, or fabricated. As noted by John B. Davis, there were very few primary documents describing facts of Sequoyah's life. Some anecdotes were passed down orally, but these often conflict or are vague about times and places.

James Mooney, a prominent anthropologist and historian of the Cherokee people, quoted a cousin as saying that as a little boy, Sequoyah spent his early years with his mother in the village of Tuskegee. Estimates of his birth year ranged from 1760 to 1776. His name is believed to come from the Cherokee word siqua meaning 'hog'. However, Davis says the name may have been derived from sikwa (either a hog or an opposum and vi meaning a place or an enclosure. This is a reference either to a childhood deformity or to a later injury that left Sequoyah disabled.

His mother, Wut-teh, was known to be Cherokee, belonging to the Red Paint Clan. Mooney stated that she was the niece of a Cherokee chief. McKinney and Hall noted that she was a niece of chiefs who have been identified as the brothers Old Tassel and Doublehead. Since John Watts (also known as Young Tassel) was a nephew of the two chiefs, it is likely that Wut-teh and John Watts were siblings.

Sources differ as to the identity of Sequoyah's father. Davis cites Emmet Starr's book, Early History of the Cherokees, as the source for saying that Sequoyah's father was a peddler from Swabia named Guyst, Guist, or Gist. According to Goodpasture, some believe the father was an unlicensed German peddler named George Gist, who came into the Cherokee Nation in 1768, where he married and fathered a child. Grant Foreman identified him as Nathaniel Gist, son of a Christopher Gist, who later became a commissioned officer with the Continental Army associated with George Washington. Mooney and others suggested that he was possibly a fur trader, who would have been a man of some social status and financial backing. Josiah C. Nott claimed he was the "son of a Scotchman". An article in the Cherokee Phoenix, published in 1828, stated that Sequoyah's father was a half-blood and his grandfather a white man.

---
Cherokee (Tsalagi) Language Syllabary
25KB

Character Names
----------------

e
ge
he
le
me
ne
que
se
de
te
tle
ye
o
go
ho
lo
mo
no
quo
so
do

tlo
tso
wo
a
ga
ha
la
ma
na
qua
sa
da
yo
yu
yv
wa
ya
ka
hna
ta
i

gi
hi
li
mi
ni
qui
si
di
ti
tli
tsi
wi
yi
u
gu
hu
lu
mu
nu
quu
su

du
tlu
tsu
wu
v
gv
hv
lv
nv
quv
sv
dv
tlv
tla
nah
s
dla
tsa
tsv
wv
tse
we

Tsalagi Language Resources
Sequoya, or George Guess, born. ca.1760,
died Aug. 1843, buried in Zaragoza, Coahuila, Mexico.
---
Sequoyah, Sequoya, Sequoia, Sikwayi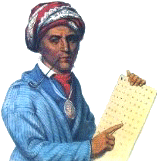 Inventor of the Cherokee Syllabary
Return to Indigenous Peoples' Literature
Compiled by: Glenn Welker





This site has been accessed over 10,000,000 times since February 8, 1996.