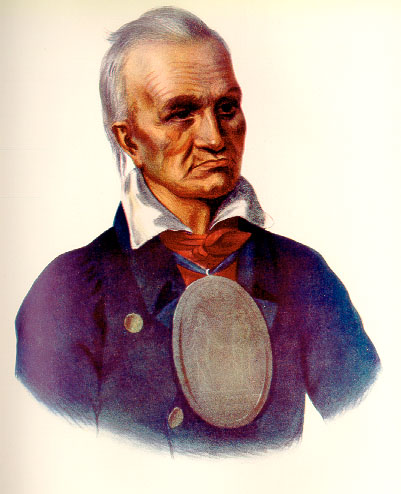 ---
"We also have a religion which was given to our forefathers, and has been handed down to us their children. It teaches us to be thankful, to be united, and to love one another! We never quarrel about religion."
"We first knew you a feeble plant which wanted a little earth whereon to grow. We gave it to you; and afterward, when we could have trod you under our feet, we watered and protected you; and now you have grown to be a mighty tree, whose top reaches the clouds, and whose branches overspread the whole land, whilst we, who were the tall pines of the forest, have become a feeble plant and need your protection."
Red Jacket (known as Otetiani in his youth and Sagoyewatha(Keeper Awake) Sa-go-ye-wa-tha because of his oratorical skills) (c. 1750–January 20, 1830) was a Native American Seneca orator and chief of the Wolf clan. He negotiated on behalf of his nation with the new United States after the American Revolutionary War, when the Seneca as British allies were forced to cede much land, and signed the Treaty of Canandaigua (1794). He helped secure some Seneca territory in New York state, although most of the people had migrated to Canada for resettlement after the defeat of the British.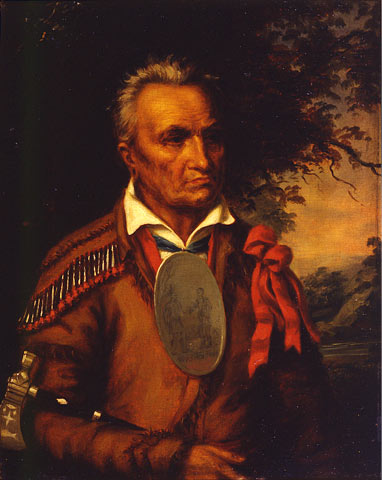 Red Jacket became famous as an orator, speaking for the rights of his people. He played a prominent role in negotiations with the new United States federal government after the war. In 1792 he led a delegation of 50 people to Philadelphia. The US president George Washington presented him with a special "peace medal", a large oval of silver plate engraved with an image of Washington on the right-hand side shaking Red Jacket's hand; below was inscribed "George Washington", "Red Jacket", and "1792". Red Jacket wore this medal on his chest in every portrait painted of him. (Today the medal is held in the collection of the Buffalo History Museum.)He was also presented with a silver inlaid half stock long rifle bearing his initials and Wolf clan emblem in the stock and his later name Sagoyewatha inlaid on the barrel. This rifle has been in private hands since his death. In 1794, Red Jacket was a signatory, along with Cornplanter, Handsome Lake, and fifty other Iroquois leaders, of the Treaty of Canandaigua, by which they were forced to cede much of their land due to their alliance with the British during the war. It confirmed peace with the United States, as well as the boundaries of the postwar the Phelps and Gorham Purchase (1788) of most of the Seneca land east of the Genesee River in western New York.
Red Jacket developed aproblem with alcohol and deeply regretted having taken his first drink (see following quote). Asked if he had children, Red Jacket, who had lost most of his offspring to illness, said:

"Red Jacket was once a great man, and in favor with the Great Spirit. He was a lofty pine among the smaller trees of the forest. But, after years of glory, he degraded himself by drinking the firewater of the white man. The Great Spirit has looked upon him in anger, and his lightning has stripped the pine of its branches."
His talk on "Religion for the White Man and the Red" (1805) has been preserved as an example of his great oratorical style.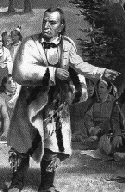 Red Jacket On The Religion Of The
White Man And The Red Man
(1805)
"The white people, brother, had now found our country. Tidings were carried back and more came among us. Yet we did not fear them. We took them to be friends. They called us brothers. We believed them and gave them a larger seat. At length their numbers had greatly increased. They wanted more land; they wanted our country. Our eyes were opened and our minds became uneasy. Wars took place. Indians were hired to fight against Indians, and many of our people were destroyed. They also brought strong liquor among us. It was strong and powerful, and has slain thousands.

Brother, our seats were once large and yours were small. You have now become a great people, and we have scarcely a place left to spread our blankets. You have got our country, but are not satisfied; you want to force your religion upon us.

Brother, continue to listen. You say that you are sent to instruct us how to worship the Great Spirit agreeably to His mind; and, if we do not take hold of the religion which you white people teach we shall be unhappy hereafter. You say that you are right and we are lost. How do we know this to be true? We understand that your religion is written in a Book. If it was intended for us, as well as you, why has not the Great Spirit given to us, and not only to us, but why did He not give to our forefathers the knowledge of that Book, with the means of understanding it rightly. We only know what you tell us about it. How shall we know when to believe, being so often deceived by the white people?

Brother, you say there is but one way to worship and serve the Great Spirit. If there is but one religion, why do you white people differ so much about it? Why not all agreed, as you can all read the Book?
Brother, we do not understand these things. We are told that your religion was given to your forefathers and has been handed down from father to son. We also have a religion which was given to our forefathers and has been handed down to us, their children. We worship in that way. It teaches us to be thankful for all the favors we receive, to love each other, and to be united. We never quarrel about religion.

Brother, the Great Spirit has made us all, but He has made a great difference between His white and His red children. He has given us different complexions and different customs. To you He has given the arts. To these He has not opened our eyes. We know these things to be true. Since He has made so great a difference between us in other things, why may we not conclude that He has given us a different religion according to our understanding? The Great Spirit does right. He knows what is best for His children; we are satisfied.

Brother, we do not wish to destroy your religion or take it from you. We only want to enjoy our own.

Brother, you say you have not come to get our land or our money, but to enlighten our minds. I will not tell you that I have been at your meetings and saw you collect money from the meeting. I can not tell what this money was intended for, but suppose that it was for your minister; and, if we should conform to your way of thinking, perhaps you may want some from us.

Brother, we are told that you have been preaching to the white people in this place. These people are our neighbors. We are acquainted with the answer to your talk, and this is all we have to say at present. As we are going to part, we will come and take you by the hand, and hope the Great Spirit will protect you on your journey and return you safe to your friends."

This famous speech, also known as his talk on "Religion for the White Man and the Red", is one example of his great skill as an orator. This speech came about in 1805 as a response to Jacob Cram, a New England missionary. On this day, the two differing sides met in Buffalo Creek, New York, to further discuss their religious beliefs. After meeting with the leaders of the Seneca delegation, Red Jacket provided a thought-out response representing his people as a whole. His address took the words of Cram, "There is but one religion, and but one way to serve God, and if you do not embrace the right way, you cannot be happy hereafter", and peacefully argued each side should have the right to worship the religion that suits them best.
Return to Indigenous Peoples' Literature
Compiled by: Glenn Welker





This site has been accessed over 10,000,000 times since February 8, 1996.