Quechua Literature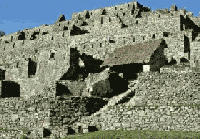 ---
Quechua wayno
Takichum takisqay wiqichum wiqillay
When the eyes of children
warmachakunapa ñawichallampi
fill with hate
Sipillawaptimpas sayarimusaqmi
Even if they kill me I will stand
chakiytawiptimpas sayarimusaqmi
even if they break my feet I will stand
makichallaykita haywaykullaway
Reach me your hand of solidarity
I need to travel fast
---
Andean Quechua Literature
Quechua Language
Quechua Literature and Culture
Quechua Poems
The Quechua Poetry Corner
---

Ya sonari kuwa kichun junmantie.
Matu toteri kuwa kito shiteto jali kito omin junlamantie.
Amana tunan tikatiya shiteto tanjininla inae jun materi
kuwa kito jali kilakimantie,
kuwa kitonan tapi kilakimantie.
Junni mannan kuwakanan shita sendori aman
unshi manpetsanpala tunan tsanla kichun kuwaka
tedechishiri kito kilakinamantie matu toteri
jana mishilila jana tapi.
Junni tsantin chumin sonari
shinuka sona chuno junmantie.
Yari nunchinantiya lotumin ora;
yateri chumin;
oton koro pe tikatiya man pititiya teretumin;
yari nunchinantiya jitumin
yari junteshiri chumin;
pe tibitiya jichun chipu tsoreka jotie
ya to teretuchikenan;
junni jun chipuse piman
jito pe kebi jimin jotie.
---
Return to Indigenous Peoples' Literature
---
Compiled by: Glenn Welker




This site has been accessed 10,000,000 times since February 8, 1996.