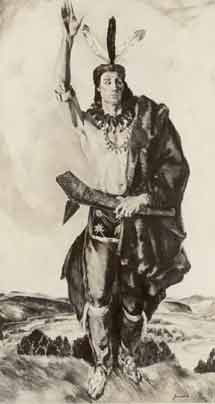 (1720-1769) Pontiac, a heroic warrior who united previously feuding tribes in an unprecedented resistance to the men who would change their way of life and the face of their land forever, left a legacy of courage and honor.
Howard Peckham, in his Pontiac and the Indian Uprising summed up:
"Pontiac, dared to draw his bow against the British lion. It was no wanton gesture. He had a cause to defend, a dream of life as it should be, and gambling on the possibility of success, he struck in the manner he knew best. When he made his peace, he kept it and resigned himself to living with the invaders he could not eject. He typified the Indian attitude and empowered it with dignity, force and direction. The advancing frontier produced many worse examples of manhood, both red and white. He stood in our path for a moment and thrust us back, revealing the tragedy of his people and the cost of human progress."
Chief Pontiac's siege of Detroit
By Jenny Nolan / The Detroit News
RootsWeb NA Links
for Wayne County MI
Svenn's Indians Page
Chief Pontiac


Chief Pontiac
Canadian Heritage Gallery
(addressing tribesmen gathered in council
in the Great Lake West region.)
Chief Pontiac Panel Relief
Pontiac, MI - Circa 1960's
History of Detroit
Ottawa Chief Pontiac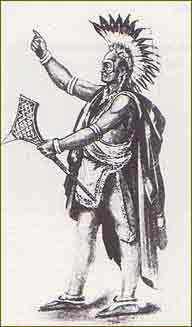 ---
Return to Indigenous Peoples' Literature
Compiled by: Glenn Welker





This site has been accessed over 10,000,000 times since February 8, 1996.