To view this page in another language, please click here:
To translate this entire site, please click here:
Other Languages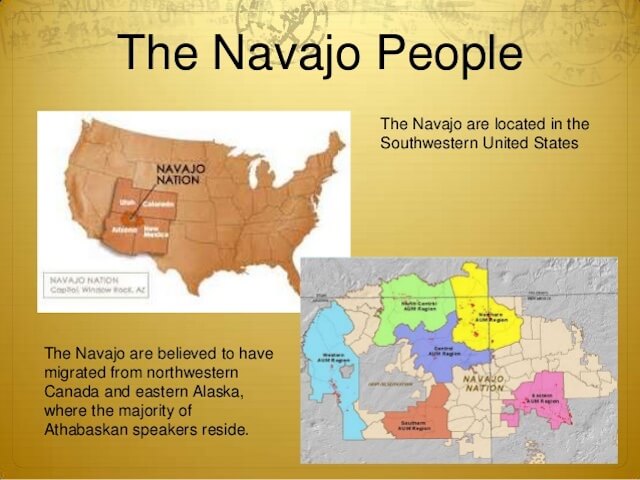 Yá'át'ééh
Welcome

"Always assume your guest is tired, cold,
and hungry and act accordingly.
There is nothing as eloquent
as a rattlesnake's tail."

"They came with the Bible in one hand
and the gun in the other.

First they stole gold.

Then they stole the land.

Then they stole our souls."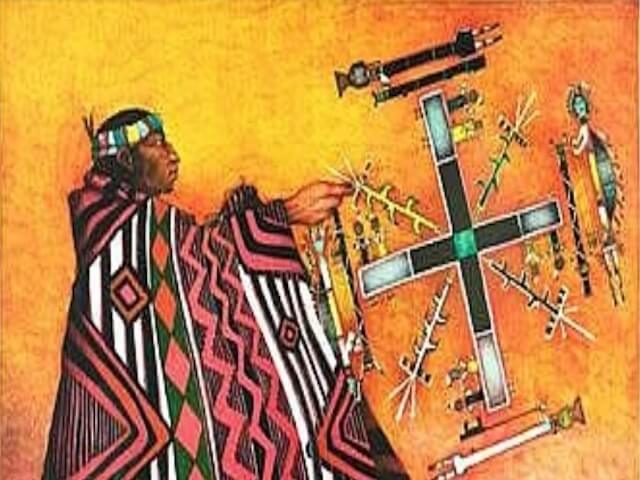 Stories
At The Rainbow's End
Blessingway
Blessingway - Twelve Word Song
Changing Woman [Asdz nádleehé]

Changing Woman comes closest to being the personification of the earth and of the natural order of the universe as to any other brief way of describing her. She represents the cyclical path of the seasons, birth (spring), maturing (summer), growing old (fall) and dying (winter), only to be reborn again in the spring.
The birth of Changing Woman was planned by First Man and First Woman. First Man repeatedly held up his medicine bundle toward Gobernador Knob at dawn. Somehow from this action Changing Woman [Asdza nádleehé] was born and found lying on top of Gobernador Knob. She was found by Talking God who was sent to investigate. First Man then presented her to the diyinii, saying that you could see that this is the child of the young man and young woman of exceeding beauty who themselves had arisen from the same medicine bundle to become the inner form of the earth.
First Man [Áltsé hastiin] raises and teaches Changing Woman. She grew from infancy to puberty in four days, thus acquiring the name Changing Woman. This occasioned the first puberty ceremony. The Holy People were called for and Talking God officiated at the ceremony. Changing Woman was dressed in jewels (white shell, turquoise, abalone and jet), blessed with pollen [tádídíín] from the dawn and from twilight, and with "pollen" from many jewels and soft fabrics, symbolizing her control over these articles. After this blessing, her hair was bathed with dews and she was instructed to run toward the dawn as far as she could see and then to return. As she ran, her dress of jewels jingled. She repeated this for four nights. On these days, when not involved in ceremonies, she occupied herself with planning for the future of the earth [nahasdzáán]. By the end of the ceremony she had made millstones [tsédaashjéé and tsédaashch'íní], a whisk broom, pots and stirring sticks. The songs that were sung for Changing Woman as she ran are sung today for young women at their puberty ceremonies.
At Changing Woman's next menstration another puberty ceremony was held, similar to the first. But at this ceremony other procedures for the future were defined. These decree that no menstrating woman shall be present at any ceremonial. The order of songs at future Blessingway ceremonies was thus determined.
After this ceremony Changing Woman would go outside and walk on the trail which had been prepared for her. One day at noon a strange man walked up to her and spoke to her. He said "Prepare yourself for something that is going to happen, after a while I will visit you." This stranger was so dazzling that Changing Woman had to look away. When she turned back, he was gone. She returned home and reported this encounter to First Woman and First Man. It seems that First Man was expecting this occurence, which happened twice again. On the third time Changing Woman was told to fix her bed outside, with her head to the east. When she fell asleep a young man came and lay beside her. This happened again and she asked who he was. He replied, "Don't you know me? Didn't you ever see me? Don't you know that you see me all the time? It is I that takes care of all things, whatever there is on earth. I am the Sun's inner form. In my very presence you came into being, in my presence you were put into shape, even I was among them!" He then indicated that First Man had directed him to do this. The next day she decided to bathe because the young man might visit her again. While bathing the young man appeared again and with the collaboration of the dripping water impregnated Changing Woman. In nine days, twins were born to Changing Woman. These twins were to become Monster Slayer and Born for Water. These two also grew in four day periods and in twelve days they were grown young men.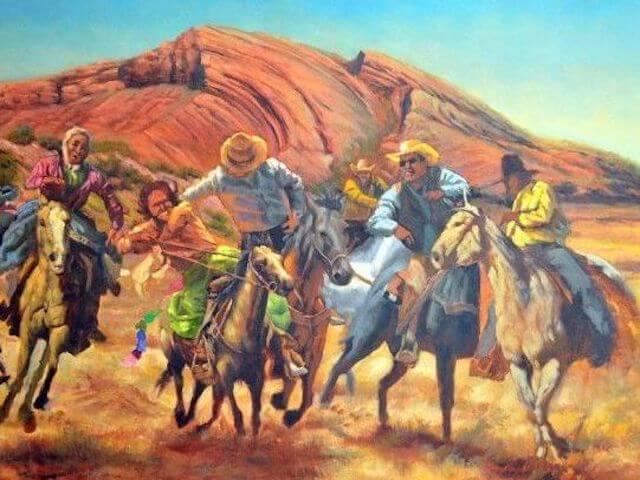 At this point Changing Woman asked for and receives the medicine bundle that First Man had brought up from the previous worlds. She moves to a hooghan that was built for her at the base of Huerfano Mountain. Here she conducted the first wedding ceremony, the mating of corn. After this ceremony Changing Woman leaves for the house that her sons have built for her, at the direction of their father, the Sun, in the west, at or on the Pacific Ocean. Here Changing Woman grew lonely and created the Navajo People from skin rubbed off various parts of her body. The four pairs of people created at this time are the ancestors of all Navajo today.
Changing Woman also caused the abduction of the two children of Rock Crystal Talking God. They were taken to her house in the west by way of a rainbow and a sunbeam. Here they were taught the Blessingway ceremony. They returned home to teach the ceremony to all of their people (the original Navajos saw the ceremony being taught to these children). The diyinii all gathered to learn the ceremony and to construct the original Mountain Soil bundle, containing soil from each of the sacred mountains, with which the ceremony is still conducted. The Holy People then said that, after their departure from this ceremony, they would never be seen in person again but that their presence would be manifest in the sound of the wind [níyol], the feathers [ats'os] of an eagle ['atsá], in various birds [naat'a'gii], the growth of the corn and other aspects of the world surrounding the earth surface people. The two children who had been taught the Blessingway ceremony then departed to live with the Holy People.
Chief Hooghan Songs
Coyote Kills a Giant
Diyin Dine'e (Holy People-Navajo)
Holy and Natural Law
Holy Wind
Hooghan
Hooghan of First Man
Legend of the Night Chant
Monster Slayer and Yé 'iitsoh
Navajo Ceremonials
Prayer of the Night Chant
Rock Monster Eagle and Monster Slayer
Sacred Mountains-Navajo
Sandpaintings
Song of the Horses
Spider Rock
Stories of Navajo crafts and tradition
Story of the Two Brother-Cousins
Sun, Moon and Stars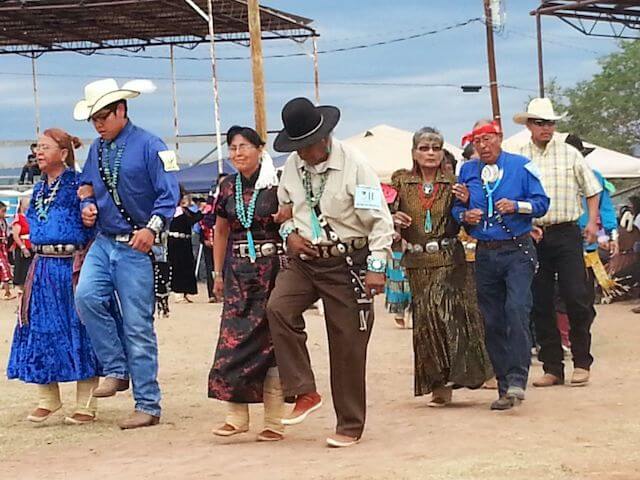 Storytelling from memories Rustywire writes with authority and authenticity because he writes from his memory. Rustywire is a fullblood dine whose father grew up on the reservation. His mother's family lived off the reservation, making Rustywire's childhood an interesting blend of cultures.
"Mom really stressed to us that we should read and write and talk English," he recalled. "My dad took care of taking us to work and taking care of things. That's just how it was."
"He has a very special gift."
Sure Good Shirt
Heading to the big city full of lights and all those cars. I wonder where they all go, how they live and what they do, so many people and each one stays someplace and they have to work somewhere and all I see is them coming and going. It is like driving into a big ant pile. On the way in there is a turnoff and I follow it and it takes me to the thrift store. it is like pawn shops, you never know what it is you need until you see it. You have been looking for it a long time, it sits there at the back of your mind and when you see it you say, ah there it is.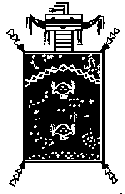 The Dineh (Navajo), together with the Apache, constitute the southern branch of the Athapascan linguistic family, living in New Mexico, Arizona, western Texas, southeastern Colorado, Utah, and in northern Mexico. The earliest recorded mention of the Dineh (Navajo) is in 1629, when white settlers from Mexico moved among them. A revolution in the Dineh economy occurred with the introduction of sheep, raised for food, clothing, and commerce. Peace treaties with the white man in 1846 and 1849 were not observed and Colonel Kit Carson invaded Dine territory in 1863 to stop Dineh incursions. He killed large numbers of their sheep and also captured the greater part of the tribe as prisoners and sent them to Fort Sumner and Redondo on the Rio Pecos in New Mexico. In 1867, after the Civil War, the Dine nation was restored to its homeland. They continue to live in peace and prosperity with the growth of their flocks and income from the sale of their famous Dine (Navajo) blankets. In addition, the Dineh tribe has attracted great attention from writers, artists, sculptors and choreographers because of their colourful culture.

"The Dineh (Navajos) are intensely religious," wrote Edward S. Curtis, whose twenty-volume study of The North American Indian was published between 1907 and 1930. Colorful expressions of their religious life are found in the many ceremonies performed by their medicine men.
OHKWA'HO AKA'RA
Dineh (Navajo) Wind Prayer
by Wolfeyes

Oh, Great Spirit, Oh Grandfathers,
How lucky can one be to know such beauty?
One can search the world over
And not find this much loveliness.
Her heart is pure, and radiates love and warmth.
Oh, Mother Earth, It is from your womb that she does come.
It has to be, for she reflects your beauty that I see all around me.
Oh, Navajo Wind, blow softly upon this desert rose.
Embrace her always with your warm gentle breezes.
Fill her heart with the pride and happiness
From a proud and noble people that she does come.

Whisper soft reminders in her ear,
"Never forget... Never forget."





Oh, Father, the Navajo Sun,
Shine brightly down upon her path,
Allow her to see the beauty in herself as well as in others.
Protect her and keep her warm.
Hide her in your absence from the despares of this life.
Allow her always to walk in beauty.
Oh, Woman who walks in beauty like the night,
I am a friend who is distant and silent.
I will care for you always.

Nia':wen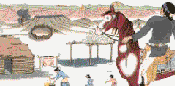 About 1966 or so, a NASA team doing work for the Apollo moon mission took the astronauts near Tuba City. There the terrain of the Navajo Reservation looks very much like the lunar surface. Among all the trucks and large vehicles were two large figures that were dressed in full lunar spacesuits.
Nearby a Navajo sheep herder and his son were watching the strange creatures walk about, occasionally being tended by other NASA personnel. The two Navajo people were noticed and approached by the NASA personnel. Since the man did not know English, his son asked him who the strange creatures were. The NASA people told them that they were just men that were getting ready to go to the moon. The man became very excited and asked if he could send a message to the moon with the astronauts.
The NASA personnel thought this was a great idea so they rustled up a tape recorder. After the man gave them his message, they asked his son to translate. His son would not.
Later, they tried a few more people on the reservation to translate and every person they asked would chuckle and then refuse to translate. Finally, with cash in hand someone translated the message,
"Watch out for these guys, they come to take your land."
Bibliography
Navajo Community College Press.
Trudy Griffin-Pierce, Univ of New Mexico Press.
Geri Keams (Navajo), Caedmon Audio Cassette
James M. Goodman, Mary E. Goodman, Univ. Oklahoma Press
Maureen Trudelle Schwarz, Univ. Arizona Press. (Hardcover)
James C. Faris, Univ. New Mexico Press
New Mexico Press
Sol Worth, John Adair, Univ. New Mexico Press
Kathy Eckles Hooker, Helen Lau Running (Photographer) , Museum of New Mexico Press
Fran Kosik, George Hardeen, Creative Solutions Pub.
Douglas Preston, Univ of New Mexico Press.
Books on Navajo Rug Weaving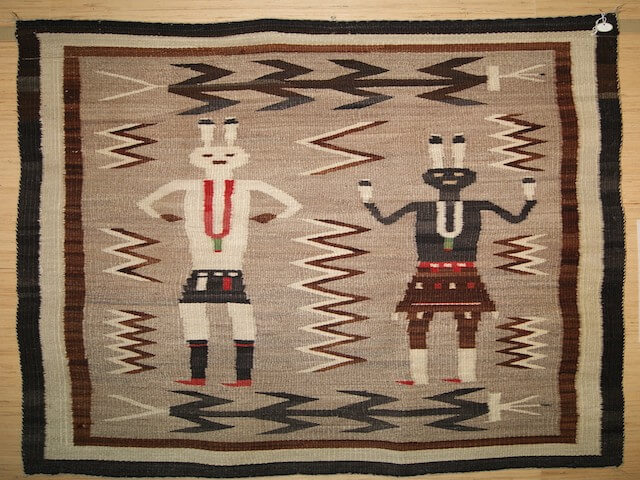 Dilys Winegrad, Lucy Fowler Williams, Joe Ben Wheat (Contributors),
Univ. of Pennsylvania Press.
Ann Lane Hedlund, Denver Art Museum.
Roseann S. Willink and Paul G. Zolbrod, Museum of New Mexico Press.
Eulalie H. Bonar (Editor), Smithsonian Institution Press.
Books by Luci Tapahonso
Music & Videos
Return to Indigenous Peoples' Literature

Compiled by: Glenn Welker
ghwelker@gmx.com


This site has been accessed 10,000,000 times since February 8, 1996.