Favorite Links
Aboriginal Canada Portal
Aboriginal Experiences
Acts of Kindness
AISES
All Nations Band
American History Tours
American Indian Women
American Indians
American Truths
Art of Johnny Tiger
Art and the Net
Bear Visions version of Wotanging Ikche
Best Costa Rica Adventure Travel
Blackfoot Idaho Online
Black Mesa Weavers
for Life and Land
Bolivian Indigenous Books
Caring for Mother Earth
CausticTruths
Celtic Women International
Chiefswood National Historic Site
Coalition of Indian Nations
(Genetically Engineered Food)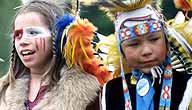 Cherokee Fire
Conservancy of the Phoenix
Corn-Ucopia
Costa Rica Adventure Travel
Cowgirl Memories Gallery
Creation Myths & Sacred Narratives of Creation
Crow Dog's Paradise

Cultural Empowerment Resources
Documentary Educational Resources
Eagle Warrior
Educational Links
Emerging Sioux Artist
(Cal Thunder Hawk)
Evaluating American Indian Web Sites
First Nations Seeker

First Nations Videos
Five Star Publications
Four Winds Trading Company
Halcyon Cosmopolitan Entertainment
Honoring Grandfather
Human Rights USA
IdahoHotSpots
Indian Nations Link Page
Indigenous Peoples Day
Indigenous People Links
Indigenous Peoples of Central Asia
Inspirational Words of Wisdom

John Guthrie's Art Studio
Keepers of the Sacred Tradition of Pipemakers
Lakota Sun
Latino Cultures
Lenape Red Thunder
Links : North American Indian Tribes
Little Eagle Books



Marilee's Native Americans Resource
Maori Resources on the Internet
Mining Company Search Engine
Minority Rights International
My Two Beads Worth
NAPE Aboriginal Links
National Association of Native American Studies
Native American Art Ring
Native American Collectables
Native American History

Native American History

Native American Links
Native American Resources
Native American Resources on the Internet
Native American Sites
Native American Indian T-Shirts
Native American Weekend
Native American Story Circle
Native Indian Poems
Native Web
Ndakinna Cultural Center & Museum Inc.

News for Natives

Pagan Babies
One Earth Indigenous Nations Institute
Our Planet Called Earth

Peace & Dignity Projects
(Americas)
(Europe)
Pipestone Pipes
Poems and Wisdom
Rene Caisse, Canada's Cancer Nurse
and the History of Essiac
Rain Bear
Reciprocal Link Generator
Republic of Lakotah




Roaming Buffalo
Russell Means Freedom

Self Schooling
Spiritual Websites
Swiss Powwow
Tanasi Journal

Thanksgiving Cards
Time and Music in a
Disappearing World

The EverZine

T.R.E.A.T.Y.
Total Immersion School

Tuscarora and Six Nations Websites
Universe and Beyond
Walkingstick of the Cherokee

Western Cherokee Nation
of Arkansas and Missouri

Where All the Navajos Go
(navajos.org)
Books

Aboriginal Australia

Sandtraks is an Australian production house with a focus
on education celebrating Indigenous culture.

---

Return to Indigenous Peoples' Literature
Compiled by: Glenn Welker





This site has been accessed over 10,000,000 times since February 8, 1996.