SONJA BOEKHORST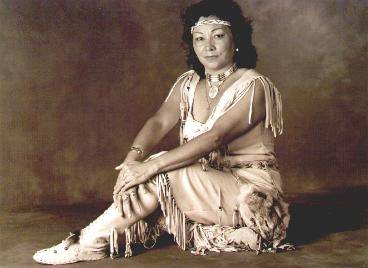 Portrait of an Artist
At an early age she was drawn to drawing, but portraying Native Americans is something new in her life; at this time she is searching for her Indian roots. But her interest in Indians stems from an early age. In 1952 Sonja was born in Rotterdam from a Dutch mother and a Canadian father who was an Indian. Her mother was running a bar at that time while her father was a soldier. Shortly after her birth he left for his tribal grounds in Canada. Although she doesn't have any recollection of him, she's grateful for her Indian heritage which is now apparent in her drawings. Sonja clearly has an Indian facial expression and skin color. She has a grown up son who is also interested in native Americans now.
Although Sonja has had no art education (except for a weekend seminar on an art academy), she has been refining her natural talent with splendid results. Through the years she has made many pencil drawings, especially of horses. Then she went experimenting with oil painting, but got irritated with the long drying time it requires. Then she came across color pastels and found it a revelation. She now had found exactly what suited her and she made portraits of Tina Turner and Michael Jackson. Lateron she was portraying dogs.
Sonja likes to work with the more nostalgic colors: brown, white, black, ocre, and creme. These colors give her Indian portraits a more or less authentic beauty. She adds landscapes and animals in her portraits from her intuition.
Her first native American portrait was of Ten Bears (the actor Floyd 'Red Crow' Westerman in Dances-with-Wolves).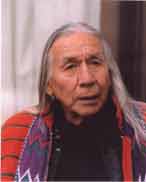 Then she started drawing after photographs of Edward Curtis. Drawing these portraits is a deep spiritual process for her, and listening to native American music touches her deeply. She explains to me that it has to do with her Indian roots. Before she starts drawing an Indian portrait she must have established a kind of spiritual feeling with the photograph involved at first. During the drawing she experiences an Indian inspiration source that's helping her shape the portrait, landscape and (totem) animals. She starts a portrait with the hairline and continues with the left eye. In this way she 'enters' the portrait.
Sonja has a permanent exposition in an Canadian restaurant in Holland in which she exhibits portraits of Chief Joseph, Two Moons, Wolf Robe, and other native Americans. Of some of her original drawings she has limited prints and postcards made.
Sonja and here partner are proud to be members of the South Eastern band of the Cherokee Nation. but for all they feel like all Nations because of the many paths she has to walk (rainbowwoman) all the colors of the rainbow are connected between Europe and turtle Island of this she has to walk this color path to bring the people together.
Dick Zegwaart
Return to Sonja's Native Art
Return to Indigenous Peoples' Literature
Compiled by: Glenn Welker





This site has been accessed 10,000,000 times since February 8, 1996.