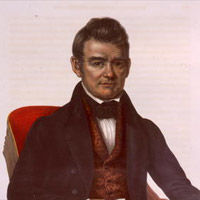 "By peace our condition has been improved in the pursuit of civilized life."
John Ross, Chief of the United Cherokee Nation from 1839 to 1866, was born on October 3, 1790 near Lookout Mountain, Tennessee. Although his father was Scottish and his mother only part Cherokee, Ross was named Tasman-Usda (Little John) and raised in the Cherokee tradition. A settled people with successful farms, strong schools, and a representative government, the Cherokee resided at that time on approximately 43,000 square miles of land, located mainly in Georgia, which they had held for centuries.

John Ross (October 3, 1790–August 1, 1866), also known as Guwisguwi (meaning in Cherokee a "mythological or rare migratory bird"), was the Principal Chief of the Cherokee Nation from 1828–1866, serving longer in this position than any other person. Described as the Moses of his people,[1] Ross influenced the former Indian nation through such tumultuous events as the relocation to Indian Territory and the American Civil War.

John Ross was only one-eighth Cherokee, the son of a part-Cherokee mother and a Scottish father. His mother and maternal grandmother were of mixed Scots-Cherokee ancestry, since his maternal grandfather was another Scottish immigrant. As a result, young John grew up bilingual and bicultural, an experience that served him well when his parents decided to send him to schools that served other mixed-blood Cherokees. After graduation, he was appointed an Indian agent in 1811. During the War of 1812, he served as adjutant of a Cherokee regiment under the command of Andrew Jackson. After the Red Stick War ended, Ross demonstrated his business acumen by starting a tobacco farm in Tennessee. In 1816, he founded a community known as Ross' Landing on the Tennessee River (now modern-day Chattanooga, Tennessee). There, he built a warehouse and trading post, as well as starting a ferry service. Concurrently, John Ross developed a keen interest in Cherokee politics, attracting the attention of the Cherokee elders, especially Principal Chiefs Pathkiller and Charles R. Hicks, who, along with Major Ridge, became his political mentors.

Ross first went to Washington, D.C. in 1816 to as part of a Cherokee delegation to negotiate issues of national boundaries, land ownership and white encroachment. As the only delegate fluent in English, Ross became the principal negotiator, despite his relative youth. When he returned to the Cherokee Nation in 1817, he was elected to the National Council. He became council president in the following year. The majority of the council were men like Ross, who were wealthy, educated, English-speaking and of mixed blood. Even the traditionalist full-blood Cherokees perceived that he had the skills necessary to contest the white's demands that the Cherokees cede their land and move beyond the Mississippi River. In this position, Ross' first action was to reject an offer of $200,000 from the US Indian agent made for the Cherokees to voluntarily relocate. Thereafter, Ross made more trips to Washington, even as white demands intensified. In 1824, Ross boldly petitioned Congress for redress of Cherokee grievances. The first time a tribe had ever shown the audacity to do such a thing. Along the way, Ross built political support in the capital for the Cherokee cause.

See Today In History, October 3 for the rest of the story.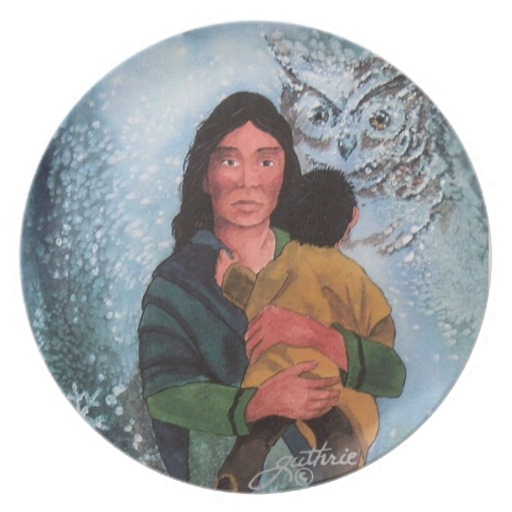 QUATIE'S BLANKET

"On the Trail of Tears, Chief John Ross led the last detachment made up of many elderly people and children. Among the people lost was the Chiefís beloved wife Quatie. Though already suffering she gave up the only blanket shielding her from the elements. The compassion Quatie showed a sick child cost her, her life."

(quoted from QUATIE'S BLANKET")
Return to Indigenous Peoples' Literature
Compiled by: Glenn Welker
ghwelker@gmx.com


This site has been accessed 10,000,000 times since February 8, 1996.