Poem:
"This I burn as an offering.
Behold it!
A sacred praise I am making.
A sacred praise I am making.
My nation, befold it in kindness!
The day of the sun has been my strength.
The path of the moon shall be my robe.
A sacred praise I am making.
A sacred praise I am making."

By: M. Bugi
---
Khowar is the language of the Kalash tribe, spoken in Chitral, which is in the far Northwest corner of Pakistan; a beautiful valley in the Hindukush range of Mountains. Khowar is classified as an Indo-European language of the Dardic Group. However, only Kalashamun is closely related to Khowar. It is spoken as the primary language by 250,000 people in Chitral. There are also pockets of speakers in Gilgit. It is clear that the current Chitralis have lived in their mountain home for 3,000 to 4,000 years.The people of Chitral are called Kho. Traditionally they are peaceful and law abiding citizens.
Khowar has 42 phonemes. Several of these are not found in any other language of the region. The letters /t/, /th/, /d/, /l/, /sh/, /ch/, /chh/, and /j/ all have two different forms, one retroflexed and the other dential-veolar non-retroflexed. Every Chitrali who learned the language on his mother's knee can readily distinguish these forms, whereas others can never learn them, regardless of how long they have lived in Chitral.
Links to the Kalash People
Google Search

History of Chitral
Kalash: Wikipedia

Parks

The Kalash Tribe
Khowar does not have a written form in common use. Before 1947, written communications in Chitral were in Farsi, which explains the large number of Farsi loan words. Today, written communications are in Urdu. Several attempts have been made to introduce a Urdu or Roman based writing script into Khowar, but these have never gained widespread acceptance.
Alexander the Great encountered them when he visited the area. The proof of this is that in the histories of Alexander the Great it is written that he encountered strange wooden boxes, which his troops chopped up to be used as firewood. These "boxes" were actually coffins for their dead following the custom which the Kalash Kafirs of Chitral still have of leaving their dead outside in wooden coffins. He also described them as a light skinned race of European type people, which is exactly what they are. This further proves that the same people were there then as are there now.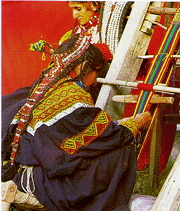 The Kalash Kafir religion which is still practiced today by about 3,000 people in Chitral has a resemblance to the ancient Greek religion of gods and goddesses. This has led some to speculate that the Kalash got their religion from the invading Greeks. This is unlikely. The Greeks merely passed through in 327 B.C., probably within 50 miles of Chitral, but did not enter Chitral itself and did not stop or stay for long. What is likely is that the Kalash religion and the Greek religion have a common origin. Both came from some proto-Indo European religion which was carried along with the Indo European language when the Chitralis first got there some 3,000 to 4,000 years ago.
The Chitralis are still speaking today one of the oldest Indo-European languages in a relatively undiluted form. This is not surprising in view of the remoteness of their area. They are so far up in the Hindu Kush mountains that it would be almost impossible for an invader to conquer them. By far the lowest pass into Chitral is Lowari Top, which is over 10,000 feet high, too high for an invading army easily to cross. The path up the Kunar river from Jalalabad becomes so narrow below Ashret that no invading army has ever tried it. There have been several attempts to invade Chitral within relatively modern historical times. One group came across Boroghol Pass, were defeated and went back. Another group came across Urtsun Pass. The British in 1895 simultaneously came across Shandur Pass and Lowari Top in a mission to rescue a group British hostages which had been taken. They conquered the area, which is the reason why Chitral is now part of Pakistan.
The world's highest polo playground is located here. It is surrounded by some of the most spectacular mountains in the world. The history of this annual polo tournament at the Shandur Top dates back to 1936 when a British Political Agent, Major Cobb organised the first polo tournament here. Major Cobb was fond of playing polo under full moon and he developed a polo ground near Shandur that was named after him and is still known as 'Major Cobb Moony Polo Ground'. Polo fans gather at Shandur from all over the world to participate in the spectacular polo events during this tournament.