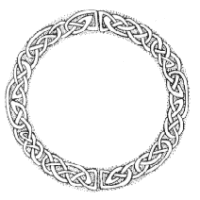 Other Gaelic Homepages
Time to Time
Celtic Pages
Celtic Music
Celtic FAQ #1
Celtic FAQ #2

Celtic Designs
(Andrews Carvings)

Celtic Roots of Europe
Celtic Studies
Celts
Celts and the Six Celtic Languages
General Celtic Information
Stirling Gaelic Archive

---
Gaelic Pages
Gaelic Culture
Gaelic Cultural Tradition
Gaelic-English dictionary
Gaelic Language Books
Gaelic Languages
Gaelic Literature
Gaelic Music
Gaelic online lessons
Gaelic Software Digest
Sabhal MÛr Ostaig
Scoil an LËinn Cheiltigh
---
Irish Pages
Ireland On Line
Sinn Féin Online
Irish Ancestors
Irish History
Irish Times Corner
tapadh le Fionn Murtagh
---
Scottish Pages
Scottish Gaelic Language
Sabhal Mòr Ostaig

Scotland's Only Gaelic College Broad Scots Dictionary
Scottish Language Dictionaries (SLD)
Legends, Folklore & Religion
Scotland Travels
Clans and Tartans
Scotlands Internet
Rampant Scotland Directory

Clans, Tartans, Regiments Clan/Family Histories

---
Misc. Gaelic Pages
Celtic Designs & Heraldry

Ceolas celtic music archive
GAELIC-L, WELSH-L, CELTIC-L, IRTRAD-L Lists
Highland Games in North America
Isle of Man
Literature/cultural Sites
North American Assoc. for Celtic Language Teachers
Paddy Waldron
Radio Free Eireann
RTÉ Radio (Internet) News
---
Welsh Pages
Welsh Literature
A Welsh Course
Welsh History
Welsh Gods
Welsh Traditional Music
Wales on the Web
Cymru ar y We
---
The History of Dalriada
The Dalriada Celtic Heritage Trust
(originally Society), based in Arran, have amassed a great storehouse of Gaelic and Celtic information and documents. They also have a Celtic quarterly newsletter and subscription and membership information may be found there. The Trust is dedicated to preserving and restoring the Celtic culture.
The heritage of what we now call the Scottish people have their roots set firmly in the history of Dalriada, particularly the people of the Western Isles and Highlands - The Gaidheal. It is for this reason that this Trust carries the name of Dalriada. Dalriada was the name of the people who came here from Ireland and whom the Romans called the Scots. The earliest knowledge we have of them comes from when they were still in Ireland. At that time there were four septs or main families of the Erainn stock, who were considered to be a section of the original inhabitants of Eire. These four septs were named the Muscraige, Corco Duibne, Corco Baiscind and Dal Riata, who came from three sons of Conaire Mor called Cairpre Musc, Cairpre Baschain and Cairpre Riata. These four septs of the Erainn migrated from Breg in the north of Ireland to Munster in the south. No reason is given as to why they traveled south, although it is probable that their own family lands could no longer contain them.
v