To translate this entire site, please click here:
Other Languages
Image Copyright © Jonathon Earl Bowser.
Used with permission.

Mother Earth hear your child, As I sit here on your lap of grass, I listen to the echoes of your voice In my brother, the Wind, As he blows from all corners and directions. The soft and gentle raindrops are the Tears you cry for your children Teach me the Lessons you offer: To nurture my children, as you nurture yours, To learn the Lessons of the Four Kingdoms, that make up this World of Physical Things, and To Learn to Walk the Path chosen so long ago. Mother Earth, hear your child, Be a bond between the Worlds of Earth and Spirit. Let the Winds echo the Knowledge of the Grandfathers. Who await, unseen, yet visible if I only turn my eyes to their World. Let me hear their Voices, in the Winds that Blow to the East.

Great Spirit
Sacred Instructions
Native Ten Commandments
Dance to Heal the Earth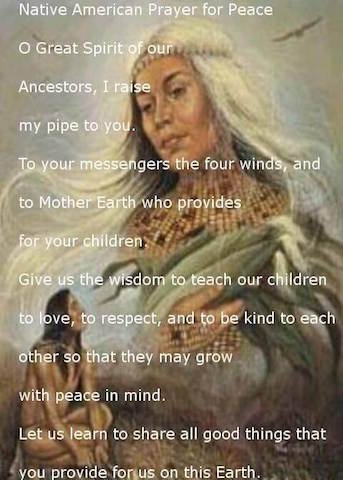 Great Spirit, Great Spirit, My Grandfather,
All over the earth the faces of living things are all alike. . .
Look upon these faces of children without number
And with children in their arms,
That they may face the winds and
Walk the good road to the day of quiet. . .
There is no death. . .
Only a change of worlds. . .
Only a change of worlds.
We return thanks to our mother,
the earth, which sustains us.
We return thanks to the rivers and streams,
which supply us with water.
We return thanks to all herbs,
which furnish medicines
for the cure of our diseases.

We return thanks to the corn,
and to her sisters, the beans and squash,
which give us life.
We return thanks to the bushes and trees,
which provide us with fruit.
We return thanks to the wind,
which, moving the air,
has banished diseases.

We return thanks to the moon and the stars,
which have given us their light
when the sun was gone.
We return thanks to our grandfather He-no,
who has given to us his rain.

We return thanks to the sun,
that he has looked upon the earth
with a beneficent eye.
Lastly, we return thanks to the Great Spirit.
in whom is embodied all goodness.
and who directs all things,
for the good of his children.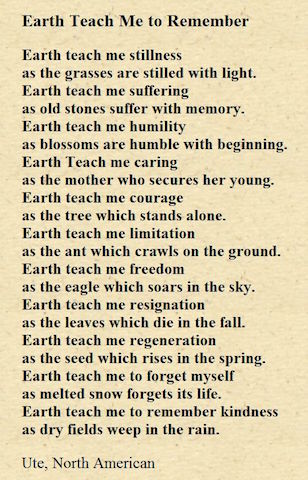 Return to Indigenous Peoples' Literature
Compiled by: Glenn Welker
ghwelker@gmx.com

This site has been accessed 10,000,000 times since February 8, 1996.