The Kumeyaay, also known as Tipai-Ipai, Kamia, or formerly Diegueño, are Native American people of the extreme southwestern United States and northwest Mexico. They live in the states of California in the US and Baja California in Mexico. In Spanish, the name is commonly spelled Kumiai.
Evidence of settlement, in what is today considered Kumeyaay territory, may go back 12,000 years. 7000 BCE marked the emergence of two cultural traditions: the California Coast and Valley tradition and the Desert tradition. The Kumeyaay had land extending from the Pacific Ocean to present Ensenada, Mexico, and then on east to the Colorado River and North to what is known as Oceanside. The Cuyamaca complex, a late Holocene complex in San Diego County is related to the Kumeyaay peoples. The Kumeyaay tribe also used to inhabit what is now a popular state park, known as Torrey Pines State Natural Reserve.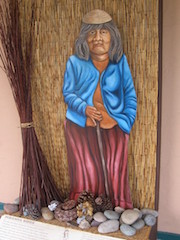 One view holds that pre-historic Tipai-Ipai emerged around 1000 CE; however, others believe Kumeyaay peoples have lived in San Diego for 12,000 years. At the time of European contact, Kumeyaay comprised several autonomous bands with 30 patrilineal clans.
Spaniards entered Tipai-Ipai territory in the late 18th century, bringing with them non-native, invasive flora, and domestic animals, which brought about degradation to local ecology. Under the Spanish Mission system, bands living near Mission San Diego de Alcalá, established in 1769, were called Diegueños. After Mexico took over the lands from Spain, they secularized the missions in 1834, and Ipai and Tipais lost their lands; essentially band members became serfs. The Tipai-Ipai observed numerous life-cycle rituals, obligations, and taboos. Reaching puberty was a public affair.
Girls underwent special rites; boys often had their nasal septa pierced. Most marriages, arranged by parents when children reached puberty, were monogamous. Divorce was relatively easy to effect. Twins were considered a blessing and supernaturally gifted. The dead were cremated along with their possessions. Souls were said to inhabit a region somewhere in the south. Wailing, speech making, the singing of song cycles, and gift exchange might accompany cremation. Mourners cut their hair, blackened their faces, and never mentioned the deceased's name again.
Though Mission Indians were converted long ago, those teachings were not evident in the continuance of their early folklore, passed down from generation to generation. Cinon Duro, the last of long-ago chiefs of the Diegueños, related their traditions of in the following legends in the late 1890s.
The Kumeyaay consist of two related groups, the Ipai and Tipai. The two coastal groups' traditional homelands were approximately separated by the San Diego River: the northern Ipai (extending from Escondido to Lake Henshaw) and the southern Tipai (including the Laguna Mountains, Ensenada, and Tecate).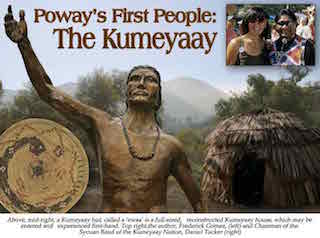 The Mission Indians of San Diego County, California, include the Diegueños of Yuman heritage and fragments of Shoshonean tribes related to people of Mexican Baja California. The Diegueños therefore have Aztec influences in their culture.
Estimates for the pre-contact populations of most native groups in California have varied substantially. Alfred L. Kroeber proposed that the population of the Kumeyaay in 1770, exclusive of those in Baja California, had been about 3,000. Katharine Luomala suggested that the region could have supported 6,000-9,000 Kumeyaay.[17] Florence C. Shipek went much further, estimating 16,000-19,000 inhabitants.
In the late 18th century, Kumeyaay population was between 3000 and 9000. In 1828, 1711 Kumeyaay were recorded by the missions. The 1860 federal census recorded 1571 Kumeyaay living in 24 villages.[19] In 1900, an estimated 1200 Kumeyaay lived on reservation lands, while 2000 lived elsewhere. The Bureau of Indian Affairs recorded 1322 Kumeyaay in 1968, with 435 living on reservations.
The oldest known Kumeyaay ancestors -- the San Dieguito Paleo Indians -- have been traced back into prehistoric San Diego lands to 10,000 B.C. through hard archeological evidence collected from ancient San Diego area indigenous sites which virtually proves the Diegueno and Kumeyaay Indian peoples have lived in Southern California and northwest Mexico for at least 12,000 years.
Fiesta
Tu-Chai-Pai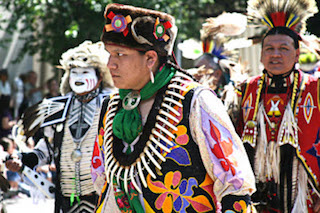 The sovereign KUMEYAAY-DIEGUENO NATION of indigenous Native American California Indians of North America are known by many names and spellings, including: Kumiai, Kóal, Kumei, Cumeyaay, Kumyai, northern and southern Diegueño Diegueno Diegueño Digueno Dieguenyo, Ipai-Tipai, Tipaay, Tiipay-Iipay, Diegueno-Kamia, Kamia, Mission Indians of San Diego California Mission Indians, San Diego Indians.
Fly at the Council
Impiety of Frog
Story
of Creation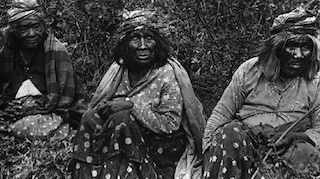 KUMEYAAY RESEARCH MUSEUMS is a Web portal to important historical Kumeyaay information. Learn how to find active fun things to do in San Diego to learn about the aboriginal California tribes of Southern California and Baja California, Mexico. Extensive professional picture galleries documenting California indigenous culture, history and lifestyle, ethnographic arts and crafts by virtual tour of Native American tribal documentaries featuring detailed on-line museum departments for creative and academic research of the four tribal groupings indigenous to San Diego County: The Kumeyaay-Diegueño Indians, the Luise Diegueño Indians, the Cupe Diegueño Indians, and the Cahuilla Indians.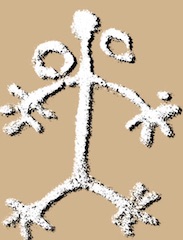 Return to Indigenous Peoples' Literature
Compiled by: Glenn Welker
ghwelker@gmx.com


This site has been accessed 10,000,000 times since February 8, 1996.