"There is no 'better' or 'worse,' only different. That difference has to be respected whether it's skin color, way of life, or ideas. The Chumash have a story about this. It begins with a worm who is eaten by a bird. The bird is eaten by a cat whose self-satisfaction is disrupted by a mean-looking dog. After devouring the cat, the dog is killed by a grizzly bear who congratulates himself for being the strongest of all. About that time comes a man who kills the bear and climbs a mountain to proclaim his ultimate superiorty. He ran so hard up the mountain that he died at the top. Before long the worm crawled out of his body."

Kote Kotah

The Chumash (California) referred to meteors as Alakiwohoch, which simply meant "shooting star." They believed a meteor was a person's soul on its way to the afterlife.

Another form of record keeping were rock petroglyphs, or pictures carved into rock. The western United States abounds with these pictures, but any dating is virtually impossible. Once again it is frequently difficult to determine whether the object carefully carved into rock is a meteor or a comet.
One rock drawing frequently debated as to its exact depiction was produced by the Ventureo tribelet of the Chumash at Burro Flats. A pair of disks with long tails are located on the wall of a cave and have been interpreted by Travis Hudson and Ernest Underhay (1978) as portraits of a comet "seen over an interval of a few days or weeks." On the other hand, E. C. Krupp (1983) has pointed out that "the images have a dynamic appearance that suggests rapid movement and change. If they are celestial at all, I would associate them with meteors, and, in particular, with the especially bright and dramatic type known as fireballs."
California's first oceanographers: The Chumash Indians
Chumash Indian Life/The Santa Barbara Museum
Chumash Myths and Stories
Chumash, the "First People"
History of the Chumash Indian People
Making of Man
Sky People and the game of Peon
Wishtoyo Foundation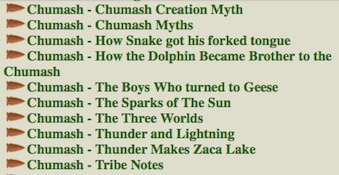 Chumash Facts

Chumash Legends

Chumash Legends and Stories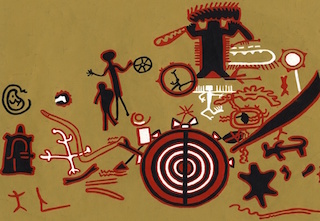 Chumash Language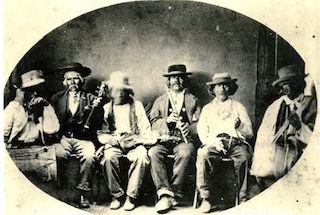 Traditional and Other Chumash Stories
The Chumash are a Native American people who historically inhabited the central and southern coastal regions of California, in portions of what is now San Luis Obispo, Santa Barbara, Ventura and Los Angeles Counties, extending from Morro Bay in the north to Malibu in the south. They also occupied three of the Channel Islands: Santa Cruz, Santa Rosa, and San Miguel; the smaller island of Anacapa was likely inhabited on a seasonal basis due to the lack of a consistent water source.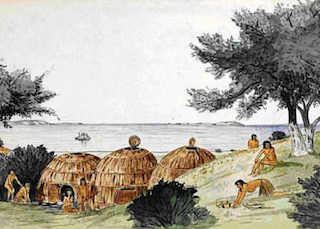 Modern place names with Chumash origins include Malibu, Lompoc, Ojai, Pismo Beach, Point Mugu, Port Hueneme, Piru, Lake Castaic, Saticoy, and Simi Valley. Archaeological research demonstrates that the Chumash have deep roots in the Santa Barbara Channel area and lived along the southern California coast for millennia.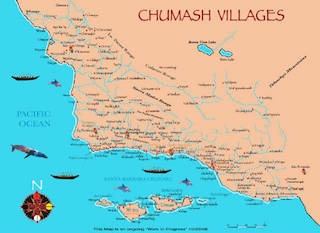 Return to Indigenous Peoples' Literature
Compiled by: Glenn Welker
ghwelker@gmx.com


This site has been accessed 10,000,000 times since February 8, 1996.