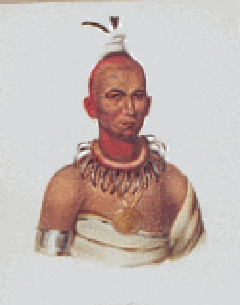 Choncape
(Big Kansas), an Oto chief
[Info from Biographical Sketches and Anecdotes...
By Thomas L. McKenney and James Hall]
Choncape is part of the famous McKenney-Hall portfolio:
Under the patronage of Thomas L. McKenney, Commissioner of Indian Trade, artist Charles Bird King produced a 143 portraits of Indian dignitaries, visiting Washington, DC, over a 20-year period. In Thomas McKenney & James Hall History of the Indian Tribes of North America., Philadelphia: 1837-1844, Folio 120 - 121 hand colored lithographs, McKenney and Hall's impressive portfolio of Indian portraits documents an important part of American History--great leaders of Indian nations which have disappeared since the mid-nineteenth century. As head of the United States Bureau of Indian Affairs for many years, McKenney championed the Indian cause. Throughout his tenure he worked to preserve something of their culture, an integral a part of American history. His legacy was a gallery or portraits of the great chiefs by artists such as James Otto Lewis, Charles Bird King, and George Cooke. McKenney took office in 1816. Shortly thereafter he planned an archive to house Indian memorabilia.

In the winter of 1821-22 a large delegation of Indians comprising Pawnee, Sauk, Fox, Menominee, Miami, Sioux, and Chippewa came to Washington to see President James Monroe. In the first quarter of the 19th century, as the Indians traveled to Washington DC to discuss their plight, the destruction of their lands and loss of their people, they would appeal to Thomas McKenney, who at the time was chief of the Bureau of Indian Affairs. McKenney commissioned grand portraits to be produced, creating the first view of the indigenous people of North America. The original oil paintings, from which hand colored lithographs were produced, by Charles Bird King, were destroyed by fire at the Smithsonian c. 1870. These lithographs are now the only visual records of this great work. McKenney and Hall's hand colored lithographs remain some of the most beautiful records of Native Americans ever produced in the nineteenth century. Oil paintings were done as formal studio portraits of tribal leaders and members of their parties who came to Washington to sign treaties.

His expenditures on the portrait gallery were not looked upon favorably in Washington, and he eventually lost his appointment. His next endeavor was to have the oil portraits published as a series of hand colored lithographs. Most of the paintings were lost in a tragic fire at the Smithsonian in 1865, so these lithographs have become an important historic record of Native American people. McKenney took advantage of the opportunity to record their likenesses. He commissioned Lewis and King. Over the years he accumulated an impressive gallery of Indian portraiture. In 1830, President Andrew Jackson dismissed McKenney, who then decided to publish the portraits, McKenney's folio was completed six years later; the first edition plates were first published in 1832. The folio was a collaborative effort. Jams Hall's text was based on information McKenney supplied. The obstacles to the successful publication were considerable. McKenney battled poverty, politics, and printers to achieve his goal. Originally issued in a large folio size, McKenney had the images redrawn to a more practical and affordable octavo size. Though he knew he was preserving a chapter in history, he did not know that no record would remain. In 1865 a fire at the Smithsonian destroyed almost all the original paintings from which the lithographs were drawn.
Return to Indigenous Peoples' Literature
Compiled by: Glenn Welker
ghwelker@gmx.com


This site has been accessed 10,000,000 times since February 8, 1996.