To translate this entire site, please click here:
Other Languages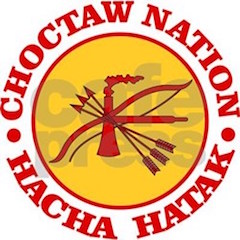 The Mississippi Band of Choctaw Indians is one of three Federally recognized tribes of Choctaw Indians. On April 20, 1945, this band organized under the Indian Reorganization Act of 1934. Also in 1945 the Choctaw Indian Reservation was created in Neshoba and surrounding counties in Mississippi. The Mississippi Band of Choctaw Indians is the only Federally recognized Indian tribe in the state.
By a deed dated August 18, 2008, the state returned Nanih Waiya to the Choctaw. The ancient earthwork mound and site, built about 1 CE-300 CE, has been venerated since the 17th century as a place of origin of the Choctaw ancestors. The Mississippi Band of Choctaw have made August 18 a tribal holiday to celebrate.
Choctaw Nation of Oklahoma (commonly referred to as the Choctaw Nation) is a federally recognized Native American tribe with a tribal jurisdictional area comprising twelve tribal districts. The Choctaw Nation maintains a special relationship with both the United States and Oklahoma governments. As of 2011, the tribe has 223,279 enrolled members, of which 84,670 live within the state of Oklahoma. The tribal jurisdictional area is 10,864 square miles (28,140 km2), a total of 233,126 people live within these boundaries, the majority of whom are not Choctaw.
The chief of the Choctaw Nation is Gary Batton, who took office on April 29, 2014 after the resignation of Gregory E. Pyle. The Choctaw Nation Headquarters is located in Durant, Oklahoma,[1] though the Choctaw Capitol Building is in Tuskahoma, Oklahoma; it is now the Choctaw Museum and home to the Judicial Department Court System.
The Choctaw Nation is one of three Choctaw tribes; the others are the Jena Band of Choctaw Indians and Mississippi Band of Choctaw Indians. Those are descendants of Choctaw who resisted the forced relocation to Indian Territory. The Mississippi Choctaw preserved much of their culture in small communities and reorganized as a tribal government under new laws after the Indian Reorganization Act of 1934.
Those Choctaw who removed to the Indian Territory, a process that went on into the early 20th century, are federally recognized as the Choctaw Nation of Oklahoma. The removals became known as the "Trail of Tears."
"I like living in this community, and I like being Choctaw, but that's all there is to it.
Just because I don't want to be a white man doesn't mean
I want to be some kind of mystical Indian either.
Just a real human being."
Beasley Denson, Secretary/Treasurer
of the Choctaw Tribal Council, 1988
Choctaw Culture




Choctaw Stories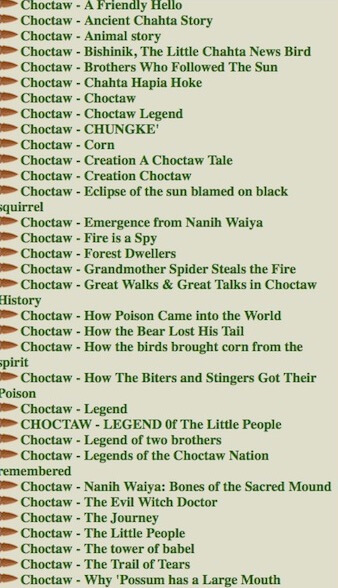 Choctaw Creation Story




Grandmother Spider Steals the Fire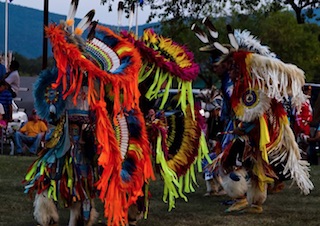 Stories of Choctaw Life

Articles From the Choctaw newspaper Bishinik.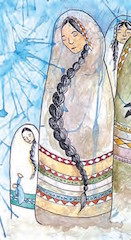 Traditional and Other Choctaw Stories

Return to Indigenous Peoples' Literature
Compiled by: Glenn Welker
ghwelker@gmx.com


This site has been accessed 10,000,000 times since February 8, 1996.