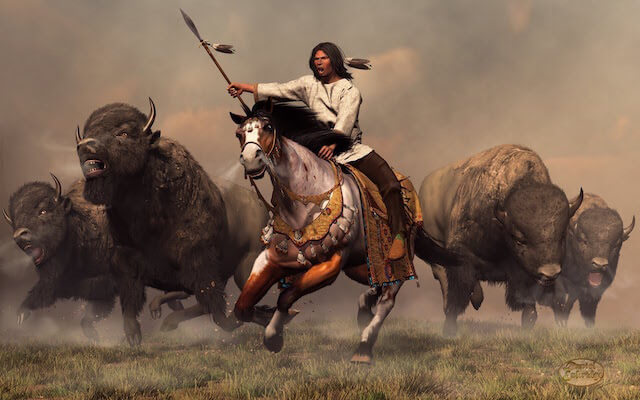 ** Buffalo Nation, The People are depending upon you,
so we pray you will be healthy. **

"Ha ti wa-ka i ta-ra-ha ha re ra
Ku-ra ra wa-ku-e-ru ta-ra-ha
Re ra ta-ra-ha re ra ta-ra-ha
Re ra ta-ra-ha a re ra ra u-ra
We ri-ku sa ta-ra'-ha ha re ra
Ta-ra-ha re ra ta-ra-ha re ra
Ta-ra-ha a re ra"

"Listen, he said, yonder the buffalo are coming,
These are his sayings, yonder the buffalo are coming
They walk, they stand, they are coming,
Yonder the buffalo are coming."

-Lakota Song-

** Let us honor the bones of those who gave their flesh to keep us alive.**

-Buffalo Alter Prayer-

** We recognize the bison is a symbol of our strength and unity, and that as
we bring our herds back to health, we will also bring our people back to health.**

-Fred DuBray, ITBC President-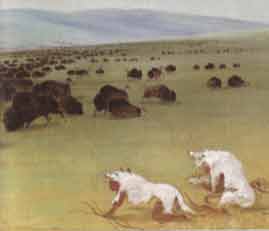 Buffalo and Eagle Wing (Blackfoot)
Buffalo and the Mouse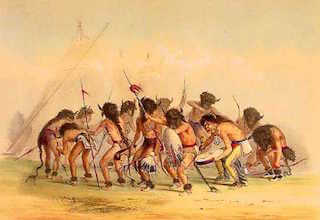 Buffalo Dance (Blackfoot)
Buffalo Dance (Mandan)


Buffalo, Life and Spirit of the American Indian
Buffalo Rock (ver. 1 & 2) (Blackfoot)
Buffalo Soldiers
Buffalo Woman, A Story of Magic (Caddo)
How the Blackfeet got the Buffalo Jump (Piskun)
How the Buffalo Hunt Began (Cheyenne)
How the Buffalo Were Released on Earth (Apache/Comanche)
It's A Miracle
Miracle, the Sacred White Buffalo
Origin of the Buffalo Dance (Blackfoot)
Porcupine Hunts Buffalo (Ute)
Running With The Buffalo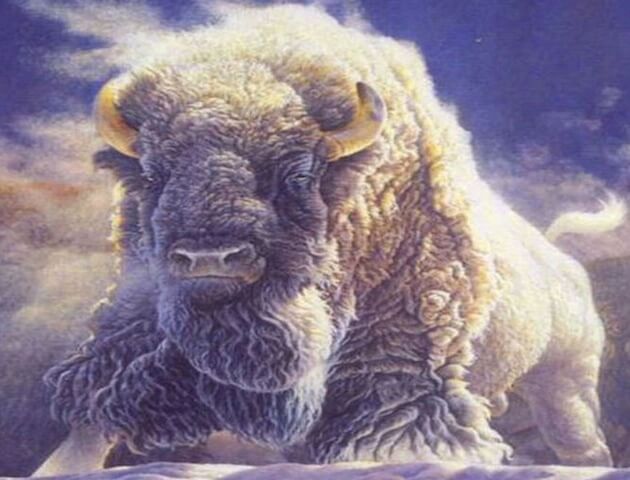 Story of the White Buffalo
White Buffalo Calf Woman (Sioux)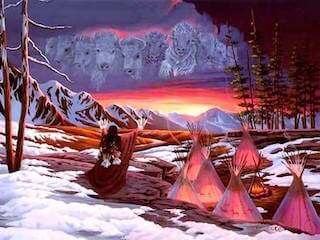 Buffalo Field Campaign - Updates
the only group in the Field, 365 days a year,
protecting the last wild buffalo

WinterKill 1996-99
WildBison.org

Buffalo Nations Luxton Museum
Honor The Earth
The Yellowstone Bison Slaughter

Thrust before the Moon (Buffalo Song)
There is a man there
somewhere that man is right there
he is laying down
he is stretched down there
he is wrapped in skins
he is wrapped in songs
he works with feathers
he carries songs that have been singing
dropped before the moon can rise
dropped where the corn is growing
he is wrapped in skins
he is wrapped in songs
he lives deep under the drum
the drumming
before the moon can rise
right there where he is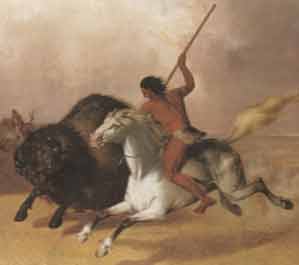 BUFFALO REPRESENT THEIR SPIRIT
The American buffalo, also known as bison, has always held great meaning for American Indian people. To Indian people buffalo represent their spirit and remind them of how their lives were once lived, free and in harmony with nature. In the 1880's, the white man recognized the reliance Indian Tribes had on the buffalo. Thus began the systematic destruction of the buffalo to try to subjugate the western Tribal Nations.
HEAL THE SPIRIT
Without the buffalo, the independent life of the Indian people could no longer be maintained. The Indian spirit, along with that of the buffalo, suffered an enormous loss. At that time, Tribes began to sign treaties with the U.S. Government in an attempt to protect the land and the buffalo for their future generations. The destruction of the buffalo herds and the associated devastation to the Tribes disrupted the self-sufficient lifestyle of the Indian people more than all other federal policies to date. To reestablish healthy buffalo populations on Tribal lands is to reestablish hope for the Indian people. Members of the InterTribal Bison Cooperative (ITBC) understand that reintroduction of the buffalo to Tribal lands will help heal the spirit of both the Indian people and the buffalo.
RETURNING BUFFALO TO INDIAN COUNTRY
Although some Tribes and Tribal members have been engaged in the production of buffalo for sale and/or for the subsistence and cultural use, these activities have been conducted by each individual Tribe, with little or no collaboration between the Tribes. However, ITBC was formed in 1990 to coordinate and assist Tribes in returning buffalo to Indian Country. ITBC has a membership of 28 Tribes with a collective herd of over 3,500 bison. Membership of ITBC remains open and there is continued interest by non-member Tribes in the organization.
ITBC
ITBC is a non-profit 501(c)(3) Tribal organization and is committed to reestablishing buffalo herds on Indian lands in a manner that promotes economic development, cultural enhancement, ecological restoration, and spiritual revitalization. ITBC is governed by a Board of Directors, which is comprised of one Tribal representative from each member Tribe.
MEMBERSHIP AND SUPPORT
ITBC is funded through public and private grants and donations. Any contributions for the restoration of the buffalo to Indian Country are welcomed and greatly appreciated. All contributions will be devoted to sustaining and strengthening Native American buffalo projects. Individuals and organizations interested in supporting ITBC may become honorary members for an annual fee of $100.00. Honorary members will receive a quarterly newsletter and periodic technical publications on the cultural, social, ecological, and economic aspects of buffalo and their relationship with Indian people.
For more information, you can reach the Intertribal Bison Cooperative at:
InterTribal Bison Cooperative
1560 Concourse Drive
Rapid City, SD 57703
PH: 605-394-9730 Fax: 605-394-7742


** MEMBER TRIBES **
BLACKFEET TRIBE.
MT. CHEYENNE RIVER SIOUX TRIBE, SD.
CHOCTAW NATION OF OKLAHOMA, OK.
CONFEDERATED SALISH & KOOTENAI TRIBES.
MT. CROW TRIBE, MT. CROW CREEK SIOUX TRIBE, SD.
DEVILS LAKE SIOUX TRIBE, ND.
FT. SILL APACHE, OK.
GROS VENTRE & ASSINIBOINE KALISPEL TRIBE, WA.
TRIBES, MT. MODOC TRIBE OF OKLAHOMA, OK.
LOWER BRULE SIOUX TRIBE, SD.
NEZ PERCE TRIBE, ID.
NORTHERN CHEYENNE TRIBE, MT.
OGLALA SIOUX TRIBE, SD.
ONEIDA TRIBES OF WISCONSIN, WI.
PICURIS PUEBLO, NM. ROUND VALLEY, CA.
SANTEE SIOUX TRIBE, NE
SHOSHONE-BANNOCK TRIBES, ID.
SOUTHERN UTE TRIBE, CO.
SISSETON-WAHPETON DAKOTA NATION, SD.
TAOS PUEBLO, NM.
STANDING ROCK SIOUX TRIBE, ND.
UTE TRIBE, UT.
WINNEBAGO TRIBE OF NEBRASKA, NE.
WISCONSIN WINNEBAGO TRIBE, WI.
YANKTON SIOUX TRIBE, SD.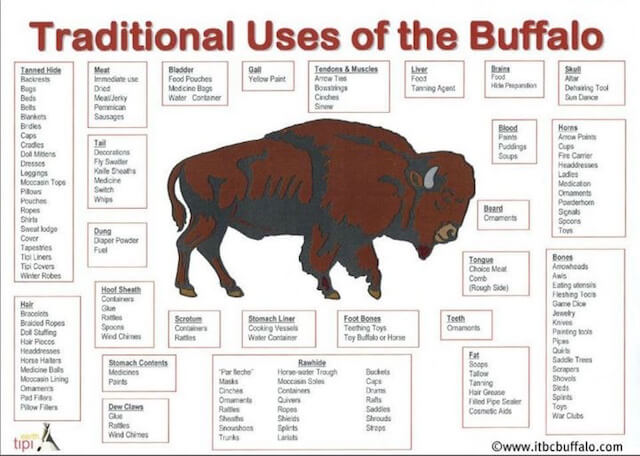 Return to Indigenous Peoples' Literature
Compiled by: Glenn Welker
ghwelker@gmx.com


This site has been accessed 10,000,000 times since February 8, 1996.