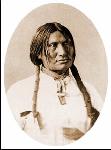 Chief Big Foot
Also known as Si Tanka Spotted Elk
Big Foot's band of Lakota,
destined to become the victims of the massacre at Wounded Knee.
Among the last, haggard bands to return from the Badlands was that of Big Foot.... He tried to find safety at the town of Pine Ridge, but the soldiers found him first. Dying of pneumonia, Big Foot surrendered peacefully. He had the misfortune to fall into the hands of the Seventh Cavalry. Officers and men were revengeful and trigger-happy. They brought the Indians to a campsite near Wounded Knee, already well within the borders of the reservation.
Big Foot's group was surrounded by three thousand men. Guns were trained on them. Then their wagons and blankets were searched for weapons. A medicine man named Yellow Bird made the soldiers nervous by throwing dust at them and uttering war cries. A deaf-mute boy [probably Black Fox] dropped and accidentally discharged an old rifle. This was the signal for a general massacre. The Indians had been disarmed. They did not even have a half dozen weapons left. Chief Big Foot was shot down in the soldiers' tent where he had been under medical care. The Hotchkiss guns were pouring shells into groups of mothers and children. Out of 250 Indians, 200 were killed, 62 of them mothers and children.
The soldiers had about sixty men killed and wounded, most of them by their own bullets. As the soldiers fired into the camp from opposite sides, they naturally hit many of their own comrades. The bodies of the Indians, frozen stiff into grotesque postures, were stacked up like corded wood and buried together in a ditch. A photographer took pictures. The soldiers would have souvenirs to send back to their families.
From: Richard Erdoes, The Sun Dance People: The Plains Indians, Their Past and Present, New York, NY, 1972, pp. 184-186
Lyrics as performed by Johnny Cash on "America
A 200-Year Salute in Story and Song", 1972. © House of Cash, Inc.
SPOKEN INTRO:

But the land was already claimed by a people
when the cowboy came and when the soldiers came.

The story of the American Indian is in a lot of ways a story of tragedy,
like that day at Wounded Knee, South Dakota.

Big Foot was an Indian chief
Of the Minneconjou band,
A band of Minneconjou Sioux
From South Dakota land.
Big Foot said to Custer,
"Stay away from Crazy Horse."
But Custer crossed into Sioux land,
And he never came back across.
Then Big Foot led his people
To a place called Wounded Knee,
And they found themselves surrounded
By the 7th Cavalry.
Big chief Big Foot,
Rise up from your bed,
Minneconjou babies cry
For their mothers lying dead.
Big Foot was down with a fever
When he reached Wounded Knee;
And his people all were prisoners
Of the 7th Cavalry.
Two hundred women and children
And another hundred men
Raised up a white flag of peace,
But peace did not begin.
An accidental gunshot
And Big Foot was first to die;
And over the noise of the rifles
You could hear the babies cry.
Big chief Big Foot,
It's good that you can't see
Revenge is being wrought
By Custer's 7th Cavalry.
Then smoke hung over the canyon
On that cold December day.
All was death and dying
Around where Big Foot lay.
Farther on up the canyon
Some had tried to run and hide;
But death showed no favorites,
Women, men, and children died.
One side called it a "massacre,"
The other a "victory,"
But the white flag is still waving
Today at Wounded Knee.
Big chief Big Foot,
Your Minneconjou band
Is more than remembered here
In South Dakota land.
Chief Big Foot After the Massacre of Wounded Knee:

This photograph shows the body of Big Foot,
lying in the snow after the massacre at Wounded Knee.
Return to Indigenous Peoples' Literature
Compiled by: Glenn Welker
ghwelker@gmx.com


This site has been accessed 10,000,000 times since February 8, 1996.