The theory of the unity of the Universe and the human being: the
relationship between the human being body and the universe or the environment.

Human being body to the universe is just like a cell to an organism body. A
cell has the whole genetic infomation of the body and
organically connected with the body.

Human body is just such a similar smalled universe. If one
really realized himself, he will know all things in the huge universe.

Having known the relationship, people will know
how to correctly deal with others and their enmvironments also.

The theory of life: It deals with the relationship between a human's body
and his nature. Having known it, one can understand how to improve his health
and how to control his mind.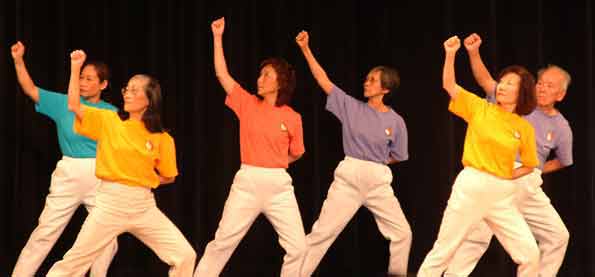 A Brief Introduction
to Yuanji Science
Body energy anatomy

How and Why I Practice Yuanji Dance?
How Yuanji Dance has changed our Lives
Picture 1 Picture 2 Picture 3 Picture 4
Every piece of music is designed specially for a Yuanji Therapeutic Dance. They combine harmony for the mind and heart; together with energy for your body and energy system. The combination of sound and motion heighten the human spirit. Each movement and taps of our energy (a.k.a. acupuncture) points helps clear our channels; cleanse our body's organ to provide a balance (Yin-Yang) system. These dances contain easy steps that are lively, and fun to do. They are adjusted according to the individual's physical and health conditions. You can do the whole dance or a portion of the dance. The dances can be practiced by a group, or alone.