Honoring Geronimo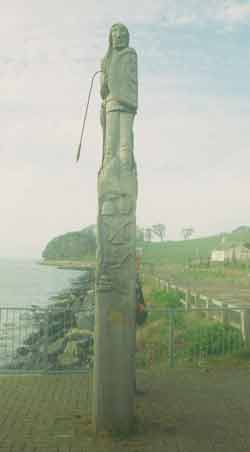 The Fisherman returned.
It was time to dock the Trawlers.
Irish sea was strong and without fish.

Oh we can't sell you fish said the people repairing boats in the dock.
The deep freeze units of prawns were empty too.
The seals were wondering around in the break waters,
Looking for hardly any leftovers of Mosul's Squids from the nets.

Small bites to fill the belly of any kind.
Click Click My camera made a sound
And we all gathered around sharing greetings.

Come back the next time Portavogie Residents were saying.
Global warming is also a way of life here.
Go instead and pay respect to a sculpture on the other side of the Island.

Bidding farewell to the traveller of time, there alone he stands
We Irish have a name for him.
We call him Geronimo
Of the last Indian to leave our soil of Ireland of distant Immigrants.

We erected him to commemmorate
The memory for what he stood for.
His replica in wood closer to the soil
So he welcomes or Bids farewells to us all.

Regardless of our color or creed
It all depends whose journey you are on.
The seen ones or the unseen ones.
Return to Indigenous Peoples' Literature
Compiled by: Glenn Welker





This site has been accessed over 10,000,000 times since February 8, 1996.