OUR CULTURE
Our culture is a shield
Protecting us from
The seen and the unseen.
Our culture is a horn
Carrying our
Divine given domain.
Our culture is a bond
Binding my tribe to your tribe.
Binding the creeping blank ant
To the majestic savannah baobab.
Binding an ancient stone
To a running thought.
---
Leaf Spears
I dived into the sea of myself,
Where my thoughts grow
Like copper colored seaweed.
I met aquatic fishes with large
Eyes like the earth breathing
Profound mystery and enigma.
Fishes moving silently in their fluid
Medium, over the sea rock that
has seen more dreams than history.
I saw a leaf growing in my damp
Legs while a green fish was
Pecking my back.
The leaf shaped like spears,
Sunk into my flesh, sending
Vibrations, alive with visions,
That I am the son of nature, and
I am connected to it's roots forever.
by Yunus & Hina Rafiki
Punjabi / Brownstownian / Segeju
---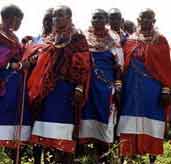 UKIMWONA KOBE AMEINAMA ANATUNNGA SHERIA
"The turtle, like the elder, leans his head down during deep thinking."
AKARA NANU NGEN ALANG OLOIKUMA ONYIAYE
INGIRL ATWAA NINYAKU ILOKI ORIONG
"Are you clever?
Are you clever like the turtles who take flesh inside
and put bones outside."
AKARA NGEN ALANG ENGOTI NAOKU KULEE NEGURUMU
"Are you clever?
Are you clever like the calabash that drinks milk
and vomits it as fresh as it began."
ARAA NANU NGEEN ALANG OLORIKA ATA NGEJER ONGWAN NEMELO
"Are you more clever?
Are you more clever like the stool that has legs but doesn't walk?"
---
"Not all lizards who lie on their stomachs have an stomach ache."
(Proverb)
Tanzanian Tribal Sayings by Yunnus Rafiki

by
Yunnus Rafiki
Lesikar ole Ngila
Return to Indigenous Peoples' Literature
Compiled by: Glenn Welker