"I dedicate this page to my good friends and artists from Tanzania, East Africa.
In Africa, we regard the turtle as a wise creature.
We honor it by comparing it to our elders.
"Baobab was the first tree to be created.
It was told not to move by the creator.
But it became restless and moved.
The creator was angry, so he planted the tree upside down.
That is why the top of the tree looks likes it's roots."
---
Greetings Elders and Warriors
We hope you are fine and well by the smile of the most high. We are an NGO, based in Tanzania made by natives of Tanzania. Our NGO is working to promote and preserve the tribal knowledge which in these times is ignored and left to disappear. Many of our young warriors are leaving villages and moving to town where they hope to seek the glamour of modern world.
The TV and Media promote the values of the West which are destructive and not relevant to our culture. Above all, it triggers our warriors to believe in material wealth, ignoring the spiritual foundations of our society. Indigenous people need to come together to share ideas, knowledge, resources, and to build networks and develop closer ties.
We, the people from the Maasai, Segeju, Punjabi, and Haya tribes of Tanzania, want to say that we are with our native brothers around the world in their struggle to build their community and history that was severely damaged in the past.
We are happy to announce our music group, singing hip hop fused with traditional songs, has completed a successful trip to Holland, where they Attended an international festival called Festival Mundial. Their group is called X PLASTAZ and we invite you to visit them at:
Many thanks.
May the sky smile at you,
Asante Sana
Yunnus Rafiki & Lesikar ole Ngila
Tribal Representatives
Tanzanian Youth Cultural Organization
P.O. Box 2113
Arusha, Tanzania
East Africa




Click on images for full-sized view.

Art Work




Osotua Le-Maa Association (Maasi Education)
The Maasai and Agents of Change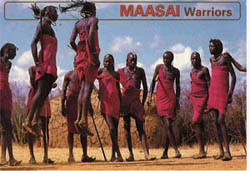 Maasai Environmental Resource Coalition
Return to Indigenous Peoples' Literature
Compiled by: Glenn Welker